A025 Sim Cluster
Jump to navigation
Jump to search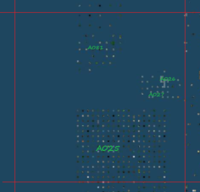 A025 is the temporary name of a large Sim Cluster. Its Coordinates are 437-488/1182-1242. It is located bith in Grid Sector D11 and D12, Far West Ocean.
History
It was one of the first grid structures detected and it remains about the same shape and size today.
Structure
It is made of 380 sims, almost all placed in mathematical order (to form squares). The structure is not complete, there are gaps and places where two sims are in close contact. Usually, there are two void sims between each two sims (that means a sim density of 10%, higher then average sim density in Unassociated Sims.
Geography
It is impossible to visit all sims existing in this sim cluster, but by random teleporting, a things can be observed.
A025 has many flat sims and sims with hills (mountains are not so frequent), Water exists and sometimes it is full of aquatic life forms. Also, on dryland you might often find vegetation, tropical and temperate forests. There is a high variety of structures and buildings.
Land Status
Land is owned by a single estate.
Unused Land is frequently found here and a lot of land is avaiilable for sale. At Isle Of Crystals there is information available of all comercial land.
See Also
List Of Microcontinents And Sim Clusters