Anmeldebildschirm
Jump to navigation
Jump to search
Der Anmeldebildschirm (auch bekannt als Login-Bildschirm oder "Splash-Screen") ist treffend benannt, weil es der Punkt ist, mit dem man sich in Second Life anmelden und erkunden kann. Die Inhalte haben sich im Laufe der Zeit geändert, aber es kann (minus dem aktuellem Anmelde-Bildschirm) auf dieser Seite angeschaut werden http://secondlife.com/app/login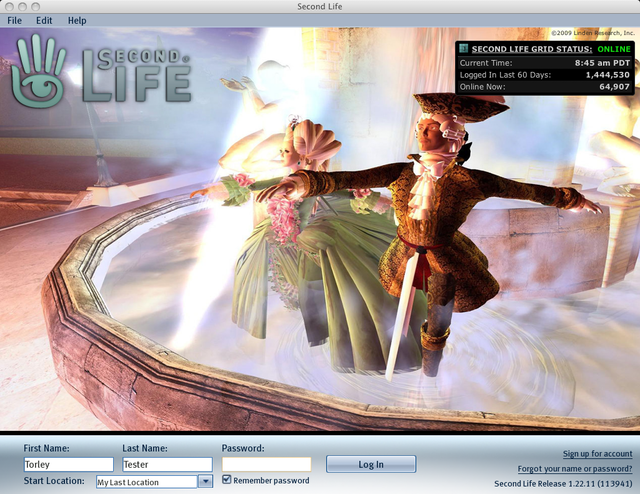 Jetzt hier einige Fragen und Antworten über Fragen, die immer wieder auftauchen! Dies ist keine Politik, nur Casual Infos, die Ihnen helfen soll das zu verstehen:
Wer macht die Bilder, die auf dem Login-Bildschirm zu sehen sind?
Meistens Torley, und die ästhetische Gurus von Linden Lab Creative Services-Team machen die Bilder.
In welchem Format sind die Bilder?
Größe 1280x960 JPGs. Das macht sie offensichtlich unerwünscht gestreckt auf Widescreens (zB 16:10), aber es ist, was wir jetzt haben.
Wie viele Bilder gibt es?
In der Regel 16 oder so, die sich saisonal verändern (oder dort, das ist noch ziemlich neu).
Jedes Mal, wenn der Tag (von denen es 4) ist mit 4 oder mehr Screenshots belegt, und sie ändern sich. Das neustart von SL oder bei längerer Zeit wird ein neues Bild gezeigt.
Wo kann ich die ganzen Bilder anschauen?
Einschließlich solcher, die nicht angezeigt werden:
Wie kann ich den Ort besuchen, wo diese Bilder entstanden sind?
Als dieser Artikel geschrieben wurde (06.04.2009), gab es keine SLURLs auf dem Login-Bildschirm. Torley explains related usability trickiness.
In der Zwischenzeit ist aber viel passiert, schau dir Torley's Flickr Fotos an für OMG AWESOME ADVENTURES, wo jedes Bild ein "Visit..." Link hat. Wenn du drauf klickst wirst du dort hinteleportiert.
Aren't you concerned about attribution?
Heck yes. You'll notice on Torley's Flickr stream that he/she/it endeavors to attribute as much as possible in the absence of an auto-attribution mechanism. If you're ready to geek out, he even came up with this macro to automate including parcel name + description.
In the future, we'll hopefully have better ways — after all, it's a win for everyone to discover awesomeness in Second Life.
Kann ich meine eigene Bilder eintragen lassen?
Wo das geschrieben wurde noch nicht. Du bist aber mehr als willkommen um auf der Second Life Showcase Seite which appears prominently on our website and within the viewer's Search window in the Showcase tab. Showcase has a FAQ, too.
Warum kombiniert Ihr nicht einfach den Login-Buildschirm mit dem Showcase?
Great Minds Think Alike!
Various people have brought this up independently. We're considering ideas on this front. That's not a commitment to implement, but yes, we're aware. Enthusiasm rules, excessive overhead sucks — certain stuff like legal issues, a low-maintenance queue, and soforth need to be figured out.
So where else can I show off my pictures?
Many places. (Add yours!) There are several Resident-run snapshot sites; Torley notes some here.
Furthermore, the Second Life Blogs link to the biggest Second Life Flickr group, which is run by Residents. Also this list of all Second Life Flickr groups.
You can let Blue Linden know, he runs EUREKA, The SL Travel Blog.
And Torley might fancy seeing your pix, contact him directly.