German Mentors
Jump to navigation
Jump to search
About us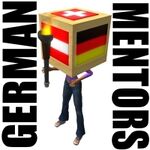 German Mentors
is a group of German speaking
Second Life Mentors
and
Apprentice Mentors
founded by
Orlandoo Habercom
at March 25th 2008. It's goal is to connect the German speaking community, to host meetings and raise the activity of Mentors.
At this moment the Group is only open for Apprentice Mentors, and Second Life mentors.

Group Charter:

Mission Focus & Statement:
Main Focus: General Help / Language (German), New Resident Basics, General Classes.
We are a broadly focused group who volunteer to help new and seasoned Residents. Meeting, greeting and answering questions is our specialty! We're a subgroup of the Second Life Mentors group.

Group Representatives:

Group Documentarians (wiki):

Requirements to Join:
Entrants must be either Second Life Mentors or Second Life Apprentice Mentors and German speaking.
Meeting Transcripts & Summaries
German Mentors meeting summaries can be found here. Meetings logged in meeting summaries:
Summary of the Meeting of June 8 2008
Summary of the Meeting of June 11 2008
Summary of the Meeting of June 15 2008
Summary of the Meeting of June 22 2008
Summary of the Meeting of July 13 2008

Transcripts: