Hippotropolis
Jump to navigation
Jump to search
The Hippotropolis region was established to provide a meeting place for developers and Residents interested in improving the open source code of the Second Life Viewer. Teleport to the Linden Open Source Project headquarters.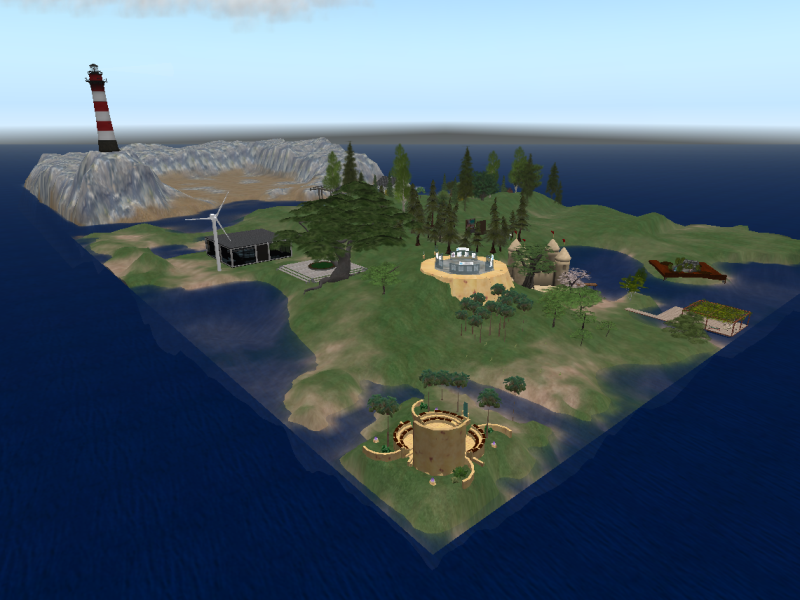 Locations
Currently, the land is divvied up among:

We've also added an additional Hippo Hollow region immediately west of Hippotropolois with:
Third Party Viewer Support Parcels
Parcels are available on Hippo Hollow for use by the support groups of viewers in the Third Party Viewer Directory that are, in the opinion of Linden Lab, making a good faith effort to support the evolving features of Second Life. This use is experimental, and subject to review. Contact Oz Linden to set up a parcel or if you have any questions.
Guidelines for use:
Terrain should be not modified radically (stay between 36 and 55 meters elevation).
Builds must not extend beyond the parcel boundaries, nor above 85 meters.
Anything that disrupts the use of other parcels in the region or is otherwise found to be obnoxious or in poor taste by the community is not allowed.
---
What additional uses would the community like? Please use the Discussion tab to reply.
Covenant
The Linden Open Source Estate is a gathering place for Residents interested in developing and improving the open source code of the Second Life Viewer. We encourage a respectful and open exchange of ideas.
Uses
This is a gathering place for sldev members and Residents interested in open source. It is a public region, so the general public will pass through as well. Community members should feel free to use this space to meet in-world to work on SL open source issues or just hang out.
I also hope the community will help us build out this space to be more valuable and interesting. If you have ideas, please add them to the Discussion page.
Desired Features
Some things we'd like to see live here:
Mobilize the non-technical enthusiast to be a casual contributor.

In-world, at OSS HQ and elsewhere, station signs that when clicked will take user to a pJIRA page filtered for bugs with less than 2 comments.
The sign would also provide a notecard on how to effectively repro bugs and help out with pJIRA. Can something like this be done?

Other ideas?