Skin
Jump to navigation
Jump to search
If you are looking for the Opensource page related to "Skin", please browse to Skin OS
A texture image that replaces the default skin of your avatar. It is an inventory item and marked by the following icon:

Newly created skins appear in the Bodyparts folder (

) by default.
Skin cannot (usually) be adjusted by the appearance sliders, but might look much better than the default skin.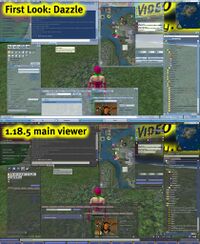 In Viewer 1.20(Release notes) and later, skin can also refer to the theme your viewer is using. As of 1.20 the themes include Default (the grey and purple classic look of the viewer) and Silver (a lighter, blue look formerly known by the internal code name Dazzle).
Residents can also create their own custom skins. See Category:Viewer Skins for a free library of these.

Related Links
Avatar Skin:
Viewer Skin: