TAMHSC Microcontinent
Jump to navigation
Jump to search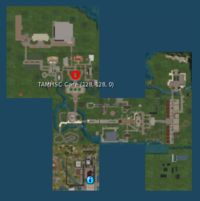 This is a Microcontinent, placed at Coordinates 1102-1105/1244-1246, Grid Sector K12, Eastern Ocean. It has the temporary name A008, that means it was the 8th structure found on map by Second Life Geography group.
Name comes from Texas A&M Health Science Center. Almost all sims share this common name. So, this is an estate owned by an institustion. It doesn't look like a young people estate. Maturity rating is set to moderate. Places are named like College of Nursing, School of Biomedical Sicences or School Of Rural Public Health.
Overall, land is almost flat, with a few rivers. There are many institutional buildings, surrounded by large parks.
See Also
List Of Microcontinents And Sim Clusters