User:Daemonika Nightfire
Jump to navigation
Jump to search
Profile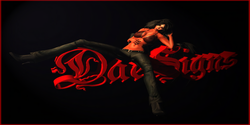 Born:
16 december 2007
About:
Owner of *DaeSigns*
Inworld:
Second Life Profil:
Mainstore Region:
Marketplace:
Homepage:
Delivery capped, even Notecards!

Don't send me Notecards when i'm offline, i receive your IM as Email.
About my scripts
Basically I use the Second Life standard format in my scripts. You will not find any script from me with a Javascript based style, where the clamps are behind the commands. I will not support scripts with this style. Very rarely do I pull longer chains of command together in unstyled way to generate an overview, learn more Style Guide. Furthermore the events are always sorted by priority.
I know my English is not the best, if you find stupid comments or spelling mistakes in my descriptions, feel free and correct the spelling, but never change any part of the scripts themselves.
Script Schule (deutsch)
Die einzelnen Seiten fuer die Schule koennen gegebenenfalls sehr lang sein, das liegt daran das ich versuche die Scripte schrittweise aufzubauen. Je weiter man nach unten scrollt desto aufwendiger / komplizierter werden die Beispiele. Trotz alle dem bemuehe ich mich, die Scripte auf ein Minimum zu beschraenken und auf unnoetige Beiwerke zu verzichten, wenn sie dem Verstaendnis-Prozess nicht dienlich sind.
Bei saemtlichen Inhalten in dieser Kategorie handelt es sich um Beispiele und nicht zwingend um fertige Scripte.
Inworld findet woechentlich Sonntags um 18 Uhr Unterricht statt. Voice hoeren notwendig.
Mittlerweile haben sich in den letzten Jahren einige Projekte in unserem Kurs angesammelt, da es sich aber meist um Object-bezogene Scripte handelt, sind sie in der Schule in blaue Kisten archiviert. Jede Kiste verfuegt ueber Fullperm Beispiele und koennen von jedem mitgenommen werden.
Videos:

Vielen Dank an Uli Jansma fuer die tollen Videos.
General Tutorials
My personal LSL Script Library
More scripts and snippets follow in the future.

My fast blanko Textures
I created these very small textures to equip unimportant areas, because all textures are rendered by the viewer. If many surfaces are equipped with these small textures, the sim will rez faster.
If you like the textures and want to have them fullperm, just contact me Inworld via IM.