User:Fritz Linden/lindenbears
Jump to navigation
Jump to search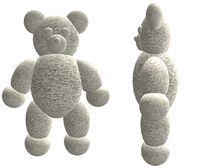 Many Lindens of the past and present have their own personal and unique teddy bear to share with Residents who ask them for it. Most of these Linden Bears are modifications of the Linden Bear made by Nicole Linden, which can be seen on the right. This article lists an incomplete list of these Linden Bears.
Linden Bears
Blondin Linden 2009 Edition[2]

Colton Linden Fishing Prize Bear[3]

Lynx Linden Scottie Bear[8]

Rodney Linden version 2.11[11]
Special Bears
While all Linden Bears are special, this paragraph is for those who are given away to special celebrations. It's also for Linden Bears for teams of many Lindens.
1.25 commemorative rolling-restart bear[20]

Kate Lindens Shamrock Bear[21]

Concierge Linden Bear[19]

I-World Team Special Edition Bear[19]

Community Translators Linden Bear[23]
Footnotes