User:Panterapolnocy Resident
Jump to navigation
Jump to search
This resident and their content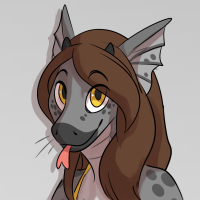 Avatar's age: 4534 days (29 Apr 2011)
A furry person that lives in Europe, in GMT+1/2 or SLT+8/9 (depends on DST) time zone. Steals your cookies while you sleep, leaves crumbs all around your carpet. Relatively often stays up late to compensate for the difference with USA time zone.
Likes to observe stars, listen to interesting music, draw, watch older/retro cartoons and movies, read books and comics, peek into the topic of cyber security, role-play, plan world domination. Also codes stuff; Because of inborn laziness is always content when computers shorten the to-do list on their own, without any human interaction. Denies the idea of Skynet, at least for now.
When programming mood hits with full force - fiddles with LSL, gnaws on viewer code and its translations or pokes things like PHP / MYSQL. Sometimes even tries to tame C++ code blocks without causing everything to explode. Usually succeeds.
Personally prefers to use Windows based machines for work and entertainment, but admits that Linux is better suited for IoT devices, servers and terminals - and likes it there. Macs? Sometimes tests how webpages look on Safari... and nothing else.
Languages that this person uses for contact: English, Polish (native), small bits of basic German; Google Translatorish.
Few useful links I've hoarded found and borrowed