User:Sean Pirandello
Jump to navigation
Jump to search
About Me
Second Life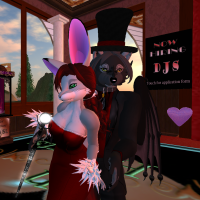 Blossome Dreamscape &
Sean Pirandello
I've been actively playing Second Life since 2005-09-17. I'm very friendly, so feel free to say hello if you see me in-world. I enjoy socializing, and I always like making a new friend. If you have any questions, please let me know, and I'll be as helpful as I can be. I can often be found alone or with a group of friends, but do feel free to approach me; I welcome you with open arms.
I have a little bit of experience with everything. I've built some, but I am by no means an expert of any sort, though I can help you with basic prim editing. I've dabbled in LSL a bit, but I may not be the best person to come to for questions on scripting. I do have experience with HTML and CSS, so if you have any questions there, I can probably help you out.
For Apprentice Mentors, I am an Apprentice Buddy and am free to do Buddy Shadowing. Please send me an IM, and I will be sure to help you out as soon as I can. For current Mentors, I am a Mentor Buddy and a Mentor Scribe. If you are not a Mentor but are currently interested, you may sign up on the volunteer page as long as applications are being accepted. For more information on Mentoring, please see the Volunteer Portal.
In my free time on Second Life, you can generally find me relaxing by a lake or ballroom dancing. I am almost always dressed in formal attire. I love to explore on Second Life, so if you think there's something I should see, feel free to give me a landmark on Second Life. If you have not yet experienced the Tunnel of Light and are capable of running Second Life with Atmospheric Shaders enabled, I highly recommend it.
I also play Tiny Empires, a HUD game based on the feudal system. You can pick up a free trial HUD if you are interested and would like to try the game out. I currently hold the rank of Prince in the Kingdom of Sparta. My full title is "The Furry Envoy Sean Pirandello of Sparta." If you need any assistance in the game, feel free to instant message me. I am always willing to help someone out, even if you're from another line. You can pick up a free trial HUD if you are interested and would like to try the game out. If you would like further information, please check out the Tiny Empires Wiki.
And remember:
Don't Hassel the Hoff.
Don't get even; get odd!
Don't lose your mind trying to set it free.
Real Life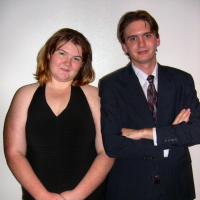 Blossome Dreamscape &
Sean Pirandello
My name is Sean Raines, and I live in Phoenix, Arizona. I am actually a native to Phoenix, which many people here find to be a rarity. Though some people don't like the heat, I enjoy it, unless I'm getting into my car. I am currently employed by the Apollo Group, the parent company of University of Phoenix. I work in technical support, so some of you may have spoken to me or will speak to me in the future!
Prior to employment with the Apollo Group, I started out at Honeywell. There, I converted technical documents and blueprints into Adobe Acrobat files. After this, I worked at PetSmart in transportation department working with invoices and also tracking truck deliveries to the stores. Following that, I got into technical support for Cox Communications for the state of Arizona. Next, I moved to technical support for AT&T DSL and moved into order management for AT&T U-verse.
I currently live with my girlfriend, Samantha. All of her family lives in New Mexico, so it's not too bad to go for a visit. Most of my family lives in Phoenix. In fact, my father is also a Phoenix native. It's very nice to be close to my immediate family. In 2003, my grandmother remarried to her high school sweetheart. He had been deployed to Berlin after WWII. They did not meet back up until 2001. They lived in Arizona up until 2006, when they bought a 300 year old house located in New Hampshire.
My ultimate career goal is to get my Master's Degree in Business Management with a specialization in Information Technology. Currently, I am just starting work on my Bachelor's Degree in Information Technology with a specialization in Security. I would like to move forward in the Information Technology field, and I am trying to use that as a path of advancement within the Apollo Group. My current short-term career goal is to get my A+ Certification and move to the EDS department which is a group that works on the company's PCs. I will, however, miss talking to the students who call in every day.
My hobbies include computers (which may be obvious by now,) photography, bowling, off-roading, and quad-skating. I am a prolific photographer, and I have an online photo gallery with over 2,000 photographs in it. While my work is fairly amateur, I still enjoy spending the time and looking at the results. I also enjoy bowling, though I don't get many chances to do it lately; I'm also not very good at bowling, but that's not important when you're out with friends. I go off-roading with my truck with a group of friends from time to time through the deserts and washes located outside of Phoenix. Finally, I do go quad-skating from time-to-time. I am slowly improving, and it is a good workout. It's also a good way to spend time with friends.
Useful Links
Viewers:
Graphics Drivers:
Terms & Conditions
DISCLAIMER OF WARRANTY
THE PRODUCT IS PROVIDED ON AN "AS IS" BASIS, WITHOUT WARRANTY OF ANY KIND, INCLUDING WITHOUT LIMITATION THE WARRANTIES THAT IT IS FREE OF DEFECTS, MERCHANTABLE, FIT FOR A PARTICULAR PURPOSE OR NON-INFRINGING. THE ENTIRE RISK AS TO THE QUALITY AND PERFORMANCE OF THE PRODUCT IS BORNE BY LICENSEE. SHOULD THE PRODUCT PROVE DEFECTIVE IN ANY RESPECT, LICENSEE AND NOT LICENSOR OR ITS SUPPLIERS OR RESELLERS ASSUMES THE ENTIRE COST OF ANY SERVICE AND REPAIR. IN ADDITION, THE SECURITY MECHANISMS IMPLEMENTED BY THE PRODUCT HAVE INHERENT LIMITATIONS, AND LICENSEE MUST DETERMINE THAT THE PRODUCT SUFFICIENTLY MEETS ITS REQUIREMENTS. THIS DISCLAIMER OF WARRANTY CONSTITUTES AN ESSENTIAL PART OF THIS AGREEMENT. NO USE OF THE PRODUCT IS AUTHORIZED HEREUNDER EXCEPT UNDER THIS DISCLAIMER.
LIMITATION OF LIABILITY
TO THE MAXIMUM EXTENT PERMITTED BY APPLICABLE LAW, IN NO EVENT WILL LICENSOR OR ITS SUPPLIERS OR RESELLERS BE LIABLE FOR ANY INDIRECT, SPECIAL, INCIDENTAL OR CONSEQUENTIAL DAMAGES ARISING OUT OF THE USE OF OR INABILITY TO USE THE PRODUCT, INCLUDING, WITHOUT LIMITATION, DAMAGES FOR LOSS OF GOODWILL, WORK STOPPAGE, COMPUTER FAILURE OR MALFUNCTION, OR ANY AND ALL OTHER COMMERCIAL DAMAGES OR LOSSES, EVEN IF ADVISED OF THE POSSIBILITY THEREOF, AND REGARDLESS OF THE LEGAL OR EQUITABLE THEORY (CONTRACT, TORT OR OTHERWISE) UPON WHICH THE CLAIM IS BASED. IN ANY CASE, LICENSOR'S ENTIRE LIABILITY UNDER ANY PROVISION OF THIS AGREEMENT SHALL NOT EXCEED IN THE AGGREGATE THE SUM OF THE FEES LICENSEE PAID FOR THIS LICENSE (IF ANY) AND FEES FOR SUPPORT OF THE PRODUCT RECEIVED BY THE LICENSOR UNDER A SEPARATE SUPPORT AGREEMENT (IF ANY), WITH THE EXCEPTION OF DEATH OR PERSONAL INJURY CAUSED BY THE NEGLIGENCE OF LICENSOR TO THE EXTENT APPLICABLE LAW PROHIBITS THE LIMITATION OF DAMAGES IN SUCH CASES. SOME JURISDICTIONS DO NOT ALLOW THE EXCLUSION OR LIMITATION OF INCIDENTAL OR CONSEQUENTIAL DAMAGES, SO THIS EXCLUSION AND LIMITATION MAY NOT BE APPLICABLE. THE LICENSOR OR ITS SUPPLIERS OR RESELLERS ARE NOT RESPONSIBLE FOR ANY LIABILITY ARISING OUT OF CONTENT PROVIDED BY LICENSEE OR A THIRD PARTY THAT IS ACCESSED THROUGH THE PRODUCT AND/OR ANY MATERIAL LINKED THROUGH SUCH CONTENT.
Miscellaneous