West Atoll Railroad
Jump to navigation
Jump to search
Description
The West Atoll Railroad (or West Atoll Railway) was an electric railway line founded by Hilto Meridoc in 2010. Plans were initially drawn to link Neumoegen to Achlya, but eventually was rerouted to Elpenor. The line opened in stages, first from Neumoegen to Electra, then east to Hera and west to Elpenor. It closed in November 2013.
WARR
The West Atoll Railroad is a railway company operating trains on the southern coast of the Heterocera Mainland. The first line has been named the WARR Main Line, and is equipped with overhead wires to cater to modern, electric trains. The WARR prizes itself on not accepting automatic trains, as well as on the possibilities for overtaking (four stations are equipped with overpasses).
The WARR was initially built to connect the south-western side of Heterocera; while many lines are biased to the North-Eastern side, various Residents had unsuccessfully pushed for a western expansion until then. The WARR has a much more suburban feel and purpose than the SLRR; arguably it serves the Calleta area as well as the harbor in Hera (technically SLRR).
The line is not only noteworthy for its modern, distinct architecture; it is also almost entirely elevated, features excellent signalling and is the only line to also feature speed limits. Compared to the SLRR, it is slightly more detailed, and also makes more side use of the right of way, which is not as narrow. Train stations are also very realistic and well-thought, contrasting with the halt looking buildings seen at most SLRR stations.
Hilto Meridoc is the sole owner of the company, assisted by contributors. There is no automated service on the line, but trains can reach the SLRR Mainline at Neumoegen (SLRR), while trains from Calleta can pull into the WARR's main station, the two-level, six-tracked Neumoegen (Tokyo) central station.
WARR Status
As of November, 2013, the railway has closed. Its rights of way were abandoned. This had a massive negative impact on South-West part of Heterocera. Soon after this railway was abandoned, other residents abandoned their land in the area. Only in two sims neighbors were interested of parcels that once belonged to the railway. Also, it had a hard negative impact on the development of Calleta City.
In December 1th 2013, there were the following branches available: Neumogen - Burns, Neumogen - Rustic, Neumogen - Hera and Cosmic Railway.
Neumogen - Burns is all that is left from the great WARR. It has 250 meters long and connects the remaining station Burns with Tokyo - Neumogen. It has not an electric railway. Almost all sector between Burns and Elpenor is currently Abandoned Land, even if in December 1st 2013, there still were two parcels named WARR Right Of Way.
Rustic Railway was that time the longest brench, 800 meters. It gived railway access for sims Hera, Griffin and Rustic. The most impressive part was a long bridge between Hera and Grifin. It had a station at half of its length. At the end station, Rustic, there was a station for Tuliptree - Bhaga ferry.
Hera Railway had suffered massife ghanges. In past, it had a bridge and a tunnel. At that time, this railway had a common path with Rustic Railway (about 100 meters), followed by a sector of 200 meters in Hera sim, including a long bridge. Hera station was at half of this railway's length. The rail ended at Hera port.
Another less known brench was The Cosmic Railway. This line started in Neumogen and climbed in the air up to 1000 meters high. It was an invisible railway that used the standard guide all lines in Heterocera follow. High in the sky there is a cosmic platform with 4 platforms for trains. At the beginning, the cosmic railway moved through Neumogen and Hera sims, but at that time it stayed in Neumogen.
In December 25th, 2013, all that is left from WARR is Neumogen - Burns rail. Everything else is abandoned, including the large Neumogen - tokyo station.
By February 1st 2014, the situation is as follows: The ruins of WARR are now named Linden Right Of Way and form a long slice of land almost all the way the old WARR line was. In some places, it follows a different path. Still, it is not known what this will be, a new railway or something else or it will be nothing (like the unfinished Bay City Railway & Trams. If this is to be a new railway, it looks like the final station will be in Andraca sim, on seaside. Also, it looks like the connection with the main line will be in Oculea, by the way the 'Linden right of way' parcel is placed.
On the ruins of Tokyo-Neumogen station, a new, smaller station was built, connected both from Burns and from Oculea sim. It looks like the old Hera, Rustic and Cosmic railways will never come back to life. Much to North, the Achemon Railway is a small replica of these 3 small branches. In May 2014, the new station was renamed Shin - Moebaru and the connection to Burns was electrified.
In September 2014, parcels of Linden right of way were found on route to Elpenor. Could the line be rebuilt as it originally was? Anyway, Second Life Geography team lost hope and decided to build a SLGI Train named WARRyucca, that follows the old WARR track by flying, reaching then the SLRR terminal in Yucca.
WARR Stations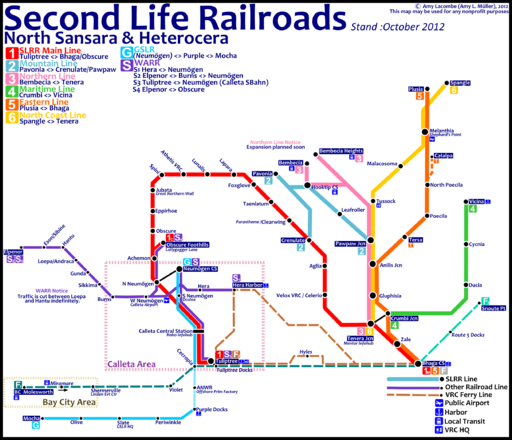 Clicking on a link will open the SLurl website to take you directly to the station.
Clicking on the 'D' will open a direct link if you are already online.
--- WARR Main line
Branch connects Burns to northern SLRR here.
Branch connects Lida Depot here.
--- WARR Hildesland Spur
--- WARR/SLRR branch
Line carries on to Calleta and Tuliptree.
Other Railway initiatives
There are several other standard gage railroads in SL, some on private land, some on Linden land. This is list of some other examples of large multi sim networks with different sets of guidance, control and track system. The different systems are not necessarily compatible with SLRR standards.
Technical Data
The numbers below are distances measured in km. Estimated maximum error is 5%.
NEUMOEGEN - BURNS:
Neumoegen:              0.00
West Neumoegen:         0.13 (connection to Shin-Moebaru)
Burns:                  0.27
OCULEA - SHIN-MOEBARU:
Oculea switch:          0.00
Shin - Moebaru:         0.13
CONNECTION:
Burns:                  0.00
Shin-Moebaru:           0.20
TOTAL RAILWAY:          0.60

External Links