GSLR
Jump to navigation
Jump to search
Description
This entry is a description of the Great Second Life Railway ( GSLR ) and its history on the Sansara continent.
Please use the Talk page to add your comments, idea's and suggestions. Please don't add them in this text directly.
GSLR
The Great Second Life Railway was started when there were not a lot of regions in Second Life. A few abortive attempts at creating a railway line eventually led to our first station in Slate; at the time the adjacent region of Olive was a sandbox.
The GSLR charter reads: "To create, support, maintain and operate the GSLR, its right of way, structures, equipment, scripts, etc. The GSLR is based on railway practices circa 1890-1930."
At the moment Athos Murphy, Perpetual Valkyrie, Jopsy Pendragon and Trent Silverman provide the land tier to support the right of way.
Currently Kitto Flora's trolley is running on a regular schedule along the whole line. And the drawbridge in Periwinkle has been locked down till further notice. We'd like to expand to the west, but the Crimson and Chartreuse regions are very stable and un-train-ey. Back when the railway switches still worked, we had plans for running a multi-car train (the steam locomotive and British carriages). Someday they will run again!
GSLR Stations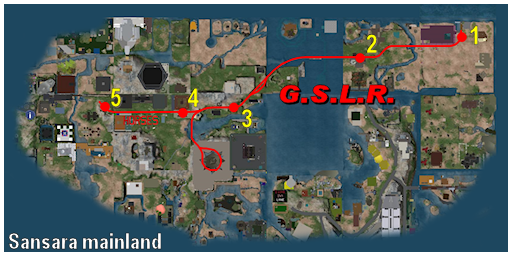 Clicking on a link will open the SLurl website to take you directly to the station.
Clicking on the 'D' will open a direct link if you are already online.
--- GSLR Main line
Other stations exists in Heterocera: Cecropia (ferry terminal), Calleta Sim (Union Station) and Calleta (in fact at 40 meters from junction with SLRR).
Other Railway initiatives
There are several other standard gage railroads in SL, some on private land, some on Linden land. This is list of some other examples of large multi sim networks with different sets of guidance, control and track system. The different systems are not necessarily compatible with SLRR standards.
Technical data
The following numbers are distances measured in km. Estimated maximum error is 5%.
HETEROCERA:
Calleta switch:               0.00
Yava Script Pods base:        0.10
Calleta Sim Union Station:    0.24
Cecropia:                     0.43
ANWR CHANNEL:
Cecropia:                     0.00
ANWR:                         0.73
Purple:                       1.23
SANSARA:
Purple:                       0.00
Periwinkle:                   0.38
Maroon:                       0.56
Magenta:                      0.75
Slate:                        0.87
Slate switch:                 0.98
Olive:                        1.04
Mocha:                        1.32
BRANCHES:
Slate Switch:                 0.00
Ethereal Teal:                0.55
TOTAL LENGTH:
Total railway length:         2.30
Total (with ferry transit):   3.53

Importance
The Color Sims don't have a connected road system, they only have a maze of paths, slices of protected land and waterways. The presence of GSLR had a massive impact, stimulating local economy. The positive influence of this railway is visible mostly in Heterocera, shere, in Cecropia sim, only the land along the railway is Inhabited Land, all the rest is abandoned land.
GSLR is the backbone of tourism in Central Sansara (see Mountains Of Central Sansara and Color Sims) and the most easy and confortable way to have contact with the incredible landscapes that can be found throughout historical Sansara. Even today, when teleporting is so easy, there are more passengers on this rail then on many modern railways of Heterocera. The Maroon Bridge is probably the longest and most impressive of all bridges in our virtual world.
The switch in Calleta sim is set 'Main' for GSLR and 'Branch' for Tuliptree, as a sign of respect for the old rail. However, it has a timer that turns itself on 'branch' so main traffic will run on the way to Tuliptree. The line sector in Heterocera is very important for the development of Calleta City. It gives access to Yava Script Pods base and to the hobo infohub.
References
Here is a list of Related resources. You can find more information about the SLRR and other Rail related articles on these wiki pages and external websites.
Wiki pages: