A095 Sim Cluster
Jump to navigation
Jump to search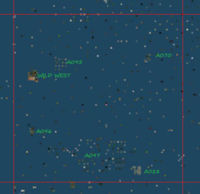 A095 is the temporary name of a Sim Cluster located in Grid Sector E12, at Coordinates 525-531/1267-1274, in North - West Ocean.
Structure
It is placed close to Wild West Continent and on map looks to have a comparable size. In fact, it has only 15 sims. It is a sim cluster with mathematical disposition (squares). The mathematical structure is not complete, but usually between two sims there is a gap of one sim.
Geography
Altitude is usually low. Ground texture is not the same for all sims. Constructions vary from futuristic buildings to gardens and to beach paradises.
Land Status
All sims are owned by the same estate.
See Also
List Of Microcontinents And Sim Clusters