A113 Sim Cluster
Jump to navigation
Jump to search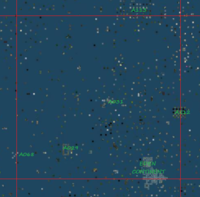 A113 is the temporary name of a Sim Cluster located in Grid Sector F12 and F13, inside North - West Ocean. Its Coordinates are 662-684/1298-1315. It is 100 sims North from Eden continent.
Structure
it has more then 50 sims. It is a sim cluster with mathematical disposition (squares), with a void sim between each two sims. The structure is not complete (it has holes). To North, it is a lot more diffuse.
Geography
Many sims are tropical beach - themed, with water, low altitude, sand and tropical vegetation. There are also other types of land, most common is grass texture. Many sims are different, with land covered with prims and buildings. In Fuzion sim, ground texture is latex. Altitude is usually low.
Land Status
There are multiple estate owners, but one estate has more sims. Land With Restricted Access was detected.
See Also
List Of Microcontinents And Sim Clusters