A 195 Sim Group
Jump to navigation
Jump to search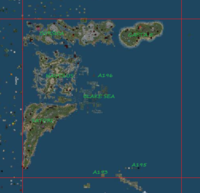 A195 is a Sim Group. It is located at Coordinates 1165-1173/1006-1006, Grid Sector K10, Eastern Ocean, Sharp Sea. It is North to Sharp Continent, the old piece of mainland for the teen grid. A195 has only 5 sims and is a remnant of the teen gird estates. It has reduced size to a third. The sims are from East to West as follows:
Epic looks like suburbs, but with a lot of Unused Land
Eutopia is a rural sim with green grass, flowers, farms, a church and a country road.
Eros was closed at our survey.
Eden has restricted access for entire sim.
Ella was closed at our survey.
To East, there was another sim.
See Also
List Of Microcontinents And Sim Clusters