Tabor - Scimitar Microcontinent
Jump to navigation
Jump to search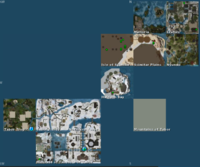 Tabor - Scimitar is a structure on map with temporary name A127, located at Coordinates 784-789/1348-1352, Grid Sector G13, Northern Ocean, close to IGBC Continent.
Structure
Actually, there are two microcontinents, linked through a sim (Hulneth Bay). Since the link is done on their corners, it is impossible for an avatar to walk from one microcontinent to the other one.
Tabor Microcontinent is in South-West
Scimitar Microcontinent is in North-East.
Geography
Tabor is a Gorean place, with lush forests that cover the hills. Majority of sims have water access and the welcome zone is near a boat.
Scimitar is a desert with oasis. Buildings are made of stone and share something from the Arabic style.
Land Status
Both microcontinents are under strict rules. Access is allowed on a large surface, but only with themed clothes. Not only that, but they are also combat areas.
See Also
List Of Microcontinents And Sim Clusters