Premium Sea
Jump to navigation
Jump to search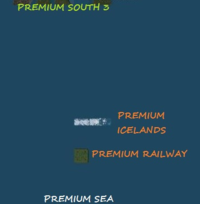 Premium Sea is a Linden-owned (mainland) Sim Group placed in far South of the map. It also has the temporary name A176. Its Coordinates are 1010-1014/479-484 and it can be found in Grid Sector J4, Southern Ocean.
Land status
Premium Sea is all Linden-owned and is one of the places where only premium residents are allowed. All land is Protected Land.
Geography
Premium Sea is composed of two groups of 4 sims: Premium Railway and Premium Snowlands. Premium Raiilway has the form of a square. All its sims are connected with this railway and are surrounded by Water. There is a high place where premium gifts can be achieved. There are a few rivers and the vegetation is rich.
Premium Snowlands are made of 4 sims connected in a sharp line. Land has various elevation levels, so there are a few mountains/ They are covered with ice and the sky is dark-blue, like the arctic day-in-night. Water is also present and on water there are a few icebergs. There are a few interesting buildings with plasma doors.
See Also
List Of Microcontinents And Sim Clusters