Viewer 2 Quick Start Guide/Location
Jump to navigation
Jump to search
The world of Second Life is gigantic, and getting bigger every day. If you want to visit a specific location, you can search for it on the map. You can create and save landmarks -- bookmarks that will bring you back to specific locations. Use landmarks to save time and jump straight to your favorite places!
The World Map
The World Map is a constantly-updated map of the entire world of Second Life. In addition to exploring new locations, you can use the map to search for events, previously stored landmarks, and online friends. Once you find a suitable destination, you can teleport there instantly or copy a SLurl to send to a friend.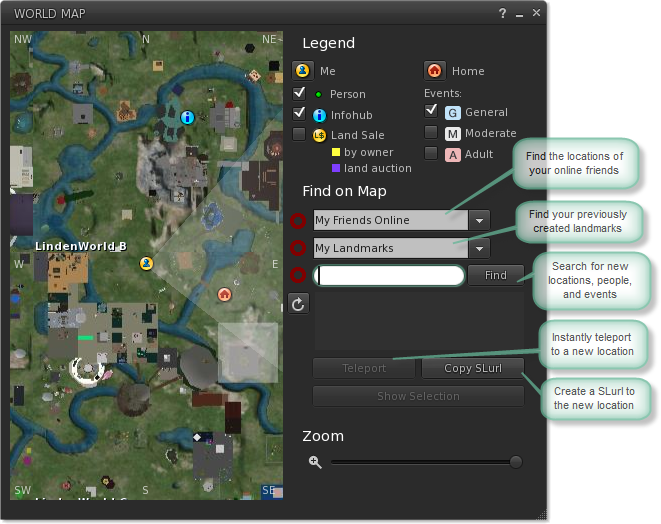 Landmarks
Landmarks are inventory items that store the coordinates of a location so you can visit it later. To create a new landmark at your current location, choose World > Landmark this place or click the star icon in the location field at the top of your screen.

To return to a landmark you've created, click the Places tab of the sidebar and double-click the landmark to which you wish to return.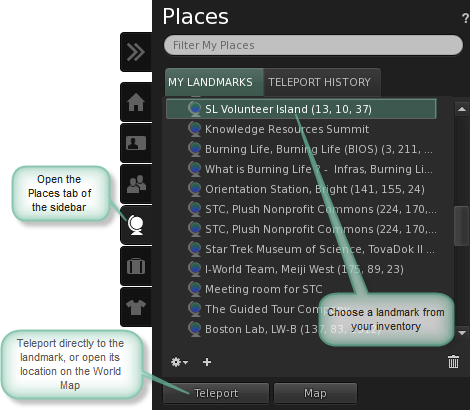 Maturity
You can find the maturity rating of a location in the address field on the top bar. A location's maturity rating defines what sort of activity is acceptable in that area. For more detailed information on maturity ratings and what they mean, visit Maturity ratings: an overview.

Teleport
You can teleport to get from one location to another quickly. To invite a friend to your location, open your Friends list and click Teleport.
SLurl
You can use SLurls to teleport to new locations. A SLurl is a web-based link to a location in Second Life. If you click a SLurl with Second Life open on your computer, you can immediately teleport to that location.