Viewer 2 Quick Start Guide/Make friends
Jump to navigation
Jump to search
Second Life is a lot more fun when you have friends to explore it with. When you meet interesting people, you can ask for permission to add them to your Friends list. Then, use the Friends list to see which friends are online, send them messages, view their profiles, and more.
Nearby friends
To add a nearby Resident to your Friends list, right-click the Resident's avatar and select Add Friend.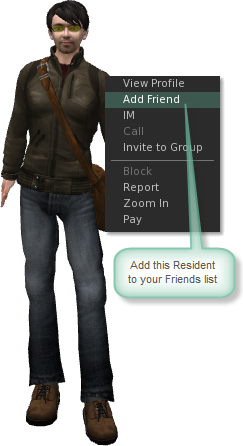 Friends list
You can view your Friends list by clicking the People tab of the sidebar, then the My Friends tab.