Snow & Snowlands
Jump to navigation
Jump to search
This article contains deffinitions and a few listings about snow and snowlands. If you want to read about the snowlands of Sansara, see Snowlands Subcontinent.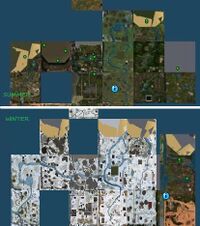 Snow is present in various ways, so it influences the landscapes of many places. When it is snowing, in fact some devices create the snow with llParticleSystem function. Snow and covered surfaces are sometimes white prims (sculpted or not). Finally, to create snowlands, it is required to change ground texture to white.
Deffinitions
Snowlands are large surfaces premanently covered with snow. This means that the entire area must be themed so.
Water Ice is found along large rivers and lakes. Currently, this exists only in Sansara and Sharp Continent.
Tundra is a transition place between a snowland and a greenland. Currently, the only such land is in Sansara.
Special Snowlands are places where ground texture is not that of snow, but the landscape was transformed to look like a small snowland. A good example is in vine sim, Heterocera.
Temporary Snowlands are places where ground texture becomes white and it is snowing in real-life winter. This change caused serious problems for Second Life Geography team while editing the winter census for List Of Microcontinents And Sim Clusters.
List of snowlands
The following list contains items that are placed by size.
See Also